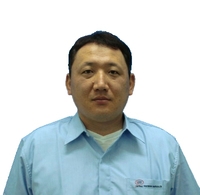 October 1996, CENTRAL PRECISION PARTS CO.,LTD. was established to manufacture and sell precision parts for compressor and etc. As is widely know, the compressor functions as the heart of cooling devices, and the valve plates of the compressor may be linkened to the valve of the human heart.
As the valve plates rotates at a high speed of 3,000 to 6,000 r.p.m excellent resistance is required for their quality and processing.
In order to satisfy the demand for excellent resistance, comprehensive know-how is required in selecting optimum materials, material acceptance test, precision control of press machines and metal molds, experience in barrel finishing, heat treatment, inspection, etc.
Based on its rich experience and achievements of comprehensive know-how, our company can promptly shoot troubles and take necessary measures when they occur.
In particular, there has recently been an increasing demand for small-size, light-weight, and excellent compressors in relation to the energy saving. Accordingly, the small component valve plate has been disigned under severe conditions to meet the needs for ever stricter quality.
Therefore, we ardently hope that you will consider our valve plates which will surely serve the purpose of your company.